What Is the D&D Adventurers League?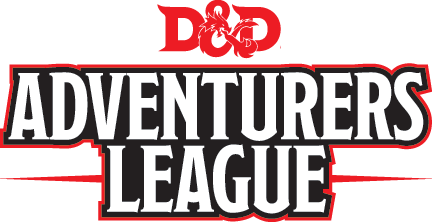 The D&D Adventurers League is an ongoing official campaign for Dungeons & Dragons. It uses the fifth edition Dungeons & Dragons rules, and features the Forgotten Realms setting. You can play D&D Adventurers League games literally anywhere. Players use the fifth edition rules to create a character and bring that character to games anywhere D&D Adventurers League play is happening.
Dungeon Masters
If you're a Dungeon Master or would like to try your hand at being the Dungeon Master, the D&D Adventurers League is a great way to run D&D games without having to spend a lot of time creating your own campaign world or adventures.
As a Dungeon Master, you have the opportunity to weave a fantastic shared story for your players, as well as take the spotlight as the monsters and villains presented in D&D Adventurers League adventure content. You are also responsible for adjudicating the rules, and providing your players with their characters' experience points and rewards at the end of each session.
Private Games
If you plan on running a game in private, all you need to do is purchase the adventure you want to run, prepare the adventure, find some players, and have a good time. Possible adventures include the Lost Mine of Phandelver from the D&D Starter Set; any of our hardcover adventure releases, such as Curse of Strahd or Storm King's Thunder; or any of the adventures designated as D&D Adventurers League content on the Dungeon Masters Guild online.
A Note for New Dungeon Masters
The Lost Mine of Phandelver is recommended for new D&D players and Dungeon Masters. It's a great way to introduce folks to D&D, and you can find it in the D&D Starter Set. Playing through the whole adventure can take characters up to 5th level. You can play this at home or as part of an in-store play event. It takes several play sessions to complete the adventure. Tracking your play for this adventure on a D&D Adventurers League logsheet makes it official—you get to keep all your rewards no matter where you go next!
Public Games
If you plan on running a game at a store or public event, contact the organizer using our Store and Event Locator to help find one near you, or see the information below regarding organizing an event.
Ask the organizer if you're responsible for purchasing the adventure online, or if they're planning on doing so for you. Once purchased from the Dungeon Masters Guild, you can download the adventure, and even print it out if you like.
Prepare your adventure. Make sure you read through the adventure and make notes where appropriate. D&D Adventurers League adventures are easy to prepare and run.
Run a fun game! As the Dungeon Master, you help guide the players through the adventure, and facilitate the story coming alive. Make sure you follow the golden rule: Make decisions and adjudications during the game that enhance the fun when possible.
What You Need to DM
If you're new to the role of Dungeon Master, you only need a few things to get started.
Players
Players kind of have it easy. All you need to do is, find an event, make a character, and show up and play. If you don't already have a group to play with and would like to find a public event, go to our Store and Event Locator online. Make sure you call ahead to confirm times and to see if they have room for new players.
Creating a Character
Character creation is easy. You'll need either a Player's Handbook or a copy of the D&D Basic Rules, and a D&D Adventurers League character logsheet. Check out the D&D Adventurers League Players Guide for more information.
Organizing an Event
Follow these simple steps to get started!
Find a place to play. Game stores are typically the best places to organize D&D Adventurers League games, but you can organize an event at other locations such as a school, library, or community center.
Find Dungeon Masters. Recruit from among your friends, interested players in your store, or use social media and other online community groups to get Dungeon Masters for your event.
Advertise your event. Post flyers in nearby stores, schools, and community centers. Create online events and allow players to register for games. Use social media to promote your event too!
Prepare event materials. You'll need things like blank character sheets, adventure logsheets, pre-generated characters, event registration lists, and copies of the adventures you're featuring at the event. Adventures meant for D&D Adventurers League play can be purchased online at the Dungeon Masters Guild.
Run your event and show your attendees a good time! Make sure to be responsive to feedback and address any issues that come up as soon as possible.
Where to Play Games
D&D Adventurers League play is focused flexibility of play and venue. It can be played in a variety of locations of the group's choice. Some examples include:
Private play including home play and online play. Published adventures themed around the current D&D storyline are considered official for D&D Adventurers League, so you can use those or adventures available through the Dungeon Masters Guild.
Game stores are supported through the Wizards Play Network.
Conventions describe in-person public play events. This can include actual gaming conventions, as well as a one-off public gatherings or game days.
Online includes play on various online platforms, such as Fantasy Grounds and Roll20.
Your Best Resource
We have a great team of campaign administrators available to help answer your questions and set you on the path to a successful event! You can find out more by heading to dndadventurersleague.org—our organizer support page!
Supporting Resources and Documents
Additional Links