Ocean's 8
(2018)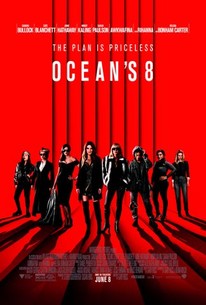 TOMATOMETER
AUDIENCE SCORE
Critic Consensus: Ocean's 8 isn't quite as smooth as its predecessors, but still has enough cast chemistry and flair to lift the price of a ticket from filmgoers up for an undemanding caper.
Movie Info
Upon her release from prison, Debbie, the estranged sister of legendary conman Danny Ocean, puts together a team of unstoppable crooks to pull of the heist of the century. Their goal is New York City's annual Met Gala, and a necklace worth in excess of 150 million dollars.
News & Interviews for Ocean's 8
Critic Reviews for Ocean's 8
Audience Reviews for Ocean's 8
½
Derivative, predictable and mostly unfunny (the dialogue is awful), this mediocre spin-off seems like written by someone who has never seen a heist movie in their life, unable to come up with any decent twist to make it worth it and being saved only by the amusing heist itself, which is fun.
Carlos Magalhães
Super Reviewer
SHE HATHAWAY ABOUT HER - My Review of OCEAN'S 8 (3 Stars) I totally support the GHOSTBUSTER-izing of Hollywood classics by recasting them with all-female leads in so much that I recognize that sometimes audiences just want to see their favorite stars skipping through a forgettable lark every now and then. So why not give us the distaff versions? Bring on LADY EXPENDABLES...which...upon reflection...sounded better in my head. I enjoyed the OCEAN movies for their sleekness, star power, and step-by-step heist instructions and OCEAN'S 8, from writer-director Gary Ross (THE HUNGER GAMES, PLEASANTVILLE), who co-wrote the screenplay with Olivia Milch, entertained me as much as the others. It's a smooth, shiny, night out at the movies, no more, no less. Okay, maybe a little less, as this entertaining trifle could have been shot through with a little more energy, tighter editing, and humor pass with a script rewrite. It settles for glamour and the mechanics of pulling off a heist, losing some much-needed zip along the way. The film opens on Sandra Bullock's Debbie Ocean (sister to George Clooney's character), incarcerated for years and pretending full rehabilitation at her parole hearing. Once sprung, her intentions crystalize as she pulls together a diamond heist she'd been planning all those years behind bars. As she gathers the troops, which include Cate Blanchett, Sarah Paulson, Mindy Kaling, Rihanna, Helena Bonham Carter, and Awkwafina (really funny), all of whom get their moments to shine, I couldn't help but think that Bullock, as the anchor, was giving what I call a Bruce Willis performance. Wan, detached, and kind of phoning it in, Bullock appears disengaged, choosing not to mine her delightful strengths that made her a star. It's odd considering this is a film more about star power than anything else. The heist, however, is everything, and thankfully, it's fun to watch it all come together. Without it, there's no film. They literally plan a robbery of a priceless necklace to be worn at the annual Met Gala, and then they execute that plan. The end. Sure, there are a couple of unexpected twists and turns, but this movie delights in, as the A-Team used to say, "loving it when a plan comes together". Luckily, this plan includes Anne Hathaway as the unsuspecting star, the hilariously named Daphne Kluger, who our gang manipulate into wearing to the ball. Hathaway demonstrates the best thievery in the film by completely stealing it. Her self-absorbed, sunny on the outside but dead on the inside character somehow manages to make an ensemble comedy all about her, and as an audience, we can't help but love her. Welcome back Anne! We Les Miz'd you! Despite the overall fun of the film, I noticed some missed opportunities, not only with a lack of strong jokes, but with giving Blanchett, who looks sensational, a little more to chew on, and there's a specific moment begging for Clooney that left me wanting for more. All told, OCEAN'S 8 proves serviceable, highly watchable, yet somewhat lackluster. Perhaps we've entered a low stakes, high glamour era in Hollywood filmmaking, but somehow the decision to remove the obstacles and just revel in the heist itself works here. Bonus points for Daniel Pemberton's memorable, mid-century style score. This is old Hollywood glitz at its best. Too bad Bullock didn't quite get the memo.
Glenn Gaylord
Super Reviewer
The Ocean's movies, with the exception of the too-cool-for-school 12, have glided by on their charm, style, and a knack for having fun with cool characters and satisfying twists and turns. After 2007's rebounding Ocean's 13, it looked like the franchise was going back to dormancy, and then writer/director Gary Ross (The Hunger Games) resuscitated it with an all-female team, following the exploits of recently paroled Debbie Ocean (Sandra Bullock). Like her (recently deceased?!) older brother, Debbie has a big score in mind, the New York Met Gala, but more specifically a $150 million diamond necklace to be worn by self-involved acting starlet, Daphne Kluger (Anne Hathaway). Debbie gathers a team of specialists and, with the help of he best friend Lou (Cate Blanchett), the assembled eight schemes to get rich off the neck of Ms. Kluger. Like its predecessors, this movie glides on by thanks to fun characters to root for and a fun heist that packs enough setups, payoffs, and reversals. The heist formula demands a protracted setup but this gives way to a bevy of payoffs, when done correctly, and even more payoffs when complications must be dealt with in a rapid time. Each of the ladies get a significant part of the heist, though not all of them have the same level of memorable involvement in the movie itself. Ocean's Eight is a slick crime fantasy given a feminine twist, dipping into gaga fashions, killer jewelry, and celebrity worship. Bullock is a strong lead but it's Blanchett that won my heart, so confidant in her wardrobe of striking men's wear. Hathaway is a cut-up as a flaky actress needing constant validation. Part of the allure of the movie, and the heist itself, are the high-end clothes and accessories. Its prime escapism for the target audience to "ooo" and "ahhh," as my theater did. Ross follows the house style of Steven Soderbergh closely with lots of tracking shots, zooms, and a consistent sense of movement. The pacing is swift and thankfully there's a significant resolution after the heist that still finds time for even more payoffs. It's not quite on par with the original, but I'd declare Ocean's Eight the best of the sequels. It's fizzy fun, but what happens if there are three more of them? Nate's Grade: B
Nate Zoebl
Super Reviewer
Ocean's 8 Quotes
There are no approved quotes yet for this movie.